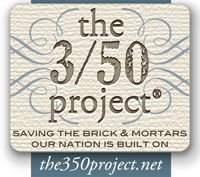 ladies and gentlemen

, if you'd be so kind to direct your attention to your right and scroll down a little bit, you'll notice a spiffy new badge for a fantastic initiative called

the 3/50 project

.

i can't remember who's blog i'd initially seen the badge on, but i really liked the tagline so i clicked through and found this kickin project that i

just had to share

. (being pretty big on locally sourced foods and materials, i quickly sponged up all of the information on the website and now feel the need to pass the word on to you.)

the 3/50 project's primary goal is to redirect a portion of your daily spending to

locally owned businesses

. according to their site, for every $100 spent in locally owned independent stores, $60 returns to the community through taxes, payroll and and other expenditures. spend $100 in a national chain, and only $43 stays here. spend it online, and

nothing comes home

.

it all began with a post on cinda baxter's alwaysupward.com blog. five days later, she threw together a flyer. a week later, a website. once the site went live, things got interesting—in its first week, more than 6,600 "absolute unique visitors" found their way to it's online home (7,600+ if you count repeat visits).

needless to say, the project has since picked up momentum and has gained it's fair share of media exposure.

i won't spoil all the fun, but i

will

recommend that you check out the site to find out ways that you can support the project - even if it is just by making a

few small changes to where you shop

, and adding that

sweet lil badge

to your blog's sidebar.